Wealth Advisers Honoured as The Financial Planning Association of Australia (FPA) Announces Professional Practice 2019 award goes to Capital Partners Wealth Advisers in Perth.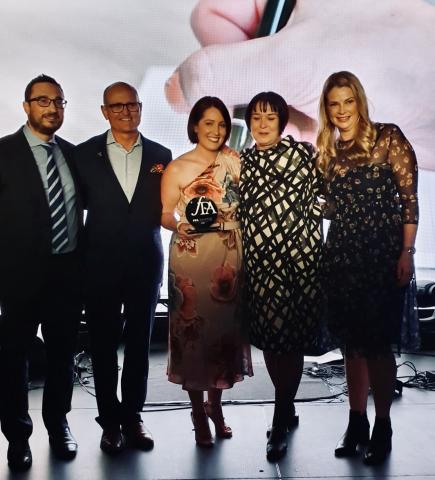 West Perth, Australia - December 10, 2019 /PressCable/ —
The Financial Planning Association of Australia (FPA) has announced the winners of the 2019 FPA Awards, Gwen Fletcher Memorial Award, and FPEC Research Grant Award at the Future2 Celebration held during the FPA Professionals Congress in Melbourne on the 28th of November.
The winner of the FPA Professional Practice of the Year Award is Capital Partners Private Wealth Advisers of Perth, WA. With an advice process structured around client understanding and delivering on service promises, Capital Partners brings a clear set of guiding principles which focus on the financial capacity and empowerment of its clients.
Helping people live richer, happier lives' is the mantra still working well for both clients and the team at Capital Partners Private Wealth Advisers, the only financial advice firm to have won this award twice, in 2017 and 2019.
It's an achievement not lost on David Andrew AFP® – the founder and managing director of Capital Partners Private Wealth Advisers.
"The award is a stamp of quality and recognises the efforts we have made over 20 years to do the right thing; and deliver great outcomes for clients. It is a wonderful recognition for our team who are some of the finest professionals in Australia."
"Our team are switched on every day to help our clients 'live richer and happier lives'," David says. "This is our mantra. We want people to have good relationships with their money, while achieving their goals and being successful. I think we're very focused on that and this award recognises that commitment."
In a crowded market, David believes the FPA Professional Practice designation again sets Capital Partners apart from other planning practices. For him, it's third party endorsement by the FPA that the practice is not only compliant with the profession's highest education and professional standards, but that it's among the country's leading firms.
"The effort you go to in meeting the FPA's criteria demonstrates to consumers that you are taking professionalism seriously, and that's something that does matter to them."
With Capital Partners trading for two decades, David is also keen to share his experience and insights with smaller firms to help them on their own journey.
"We started back in 1999 with nothing – zero clients and zero revenue. But from there, we've built a successful business. So, for other firms to see what we've achieved and how we've gone about doing it, is something I like to share."
Today, David attributes part of Capital Partners' success to several internal initiatives, including belonging to a select study group of six non-aligned businesses that helps keep the firm connected to industry best practice.
"This initiative is all about pushing ourselves to be better. It's part of our business culture that every single day, we're looking for better ways of doing things and engaging with clients. It's about understanding best practice and implementing it, and having peers who will hold us accountable to do what we say we're going to do. So, this initiative is all about continued improvement."
The practice has also rolled out a 10-year social media program, with the aim of building relevant and engaging video content for its website. In addition to this Capital Partners are building a series of podcasts in 2020 to provide more educational information to their clients, and to the broader community.
"This is all about putting the client at the centre of everything we do, and about educating people," David says.
For more information about the FPA Award and Capital Partners Wealth Advisers please visit https://www.capital-partners.com.au/
Contact Info:
Name: Yasmin Westin
Email: Send Email
Organization: Capital Partners Wealth Advisers
Address: 22 Delhi Street, West Perth, WA 6005, Australia
Website: https://www.capital-partners.com.au
Source: PressCable
Release ID: 88938524