On December 3, 2019, the 7th China Social Investment Forum was held in Grand Hyatt Beijing.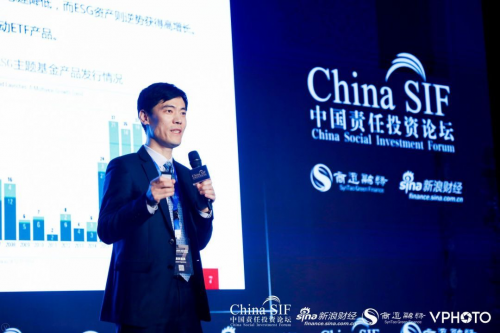 Beijing, China - December 10, 2019 —
On December 3, 2019, the 7th China Social Investment Forum was held in Grand Hyatt Beijing. Its theme is "advocating responsible investment and promoting two-way opening". Zengtao Wu, CMO of China Southern Asset Management Co., Ltd. delivered a speech at the forum, explaining the localization strategy of ESG.
According to overseas investment data compiled by the global organization for sustainable development, ESG investment in the five major regions of the world reached a total of US$ 30 trillion in 2018. However, in mature markets around the world, the return on ESG investment is only the same as MSCI index, while the return on emerging markets exceeds MSCI market index by 60%.
As one of the leading local fund companies in asset management in China, Southern Asset Management, has actively taken measures to promote the sustainable development of the company and society, mainly reflecting the following aspects:
1. Implement ESG principles in the company's operation and management. Southern Asset Management implemented electronic statement management earlier, promoted paperless office within the company, and actively participated in external public welfare activities.
2. Optimize the corporate governance structure. Southern Asset Management completed employee stock ownership in July 2019, with employees holding a total of 8.53% of the company's shares. A clear ownership structure will be conducive to the long-term development of the company.
3. Southern Asset Management continues to improve the company's corporate culture, embedding ESG investment concepts into the corporate culture-long-term investment, value investment and responsible investment.
4. Develop active ESG products and explore passive ESG products. Southern Asset Management's ESG investment philosophy integrates traditional financial analysis principles and provides customers with better investment returns while implementing ESG philosophy.
5. Southern Asset Management joined PRI last year and promised to abide by six principles and incorporate ESG into the whole investment process.
In the process of implementing ESG, Southern Asset Management will join hands with all parties to promote and persist for a long time, and it will certainly create a better future.
Contact Info:
Name: Si Chen
Email: Send Email
Organization: China Southern Asset Management
Website: https://southernfund.com
Release ID: 88937573